How in the world did I get so much stuff? Whatever space I have lived in, I fill every inch of it in stuff. I have been in a declutter mode for years now, and I have made good progress. However, I am still sorting and getting rid of stuff each month.
Stuff just crept up on me. Having kids really brought on the stuff. Buying a big house gave us lots of room to put it and soon it got out of control. I was encouraged by TV commercials and other media to buy, buy, buy stuff, and I accepted the offer and did. Bought a house that I couldn't really afford and one that had more room than I really needed. We were all told it would help the economy to buy and buy. Did it?
When the weight of debt and too much stuff felt like 5 elephants on my back, I sold the big house with a 3-car garage and moved to a much smaller house with no garage. No more bikes and garage stuff. I kept a few garden tools and shovels but they had to fit in my small laundry room.
Kid stuff went bye-bye and so did over half of my wardrobe and knick-knacks because I had virtually no storage and my closets were small. I refused to pay for a storage unit but kept a few things in my mom's basement. It was liberating. And still there was more.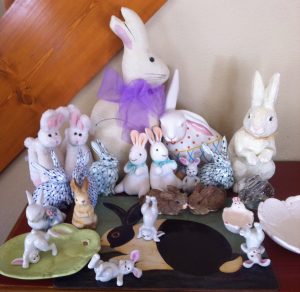 I just got out my Easter decorations. Now that I live in a small space, the holiday decorations are more confined instead of spread out all over a large house. I counted over 20 bunnies that are now on all surfaces in my living, dining and main floor bathroom. Do I need that many bunnies? How did this happen? [Read more…]