How in the world did I get so much stuff? Whatever space I have lived in, I fill every inch of it in stuff. I have been in a declutter mode for years now, and I have made good progress. However, I am still sorting and getting rid of stuff each month.
Stuff just crept up on me. Having kids really brought on the stuff. Buying a big house gave us lots of room to put it and soon it got out of control. I was encouraged by TV commercials and other media to buy, buy, buy stuff, and I accepted the offer and did. Bought a house that I couldn't really afford and one that had more room than I really needed. We were all told it would help the economy to buy and buy. Did it?
When the weight of debt and too much stuff felt like 5 elephants on my back, I sold the big house with a 3-car garage and moved to a much smaller house with no garage. No more bikes and garage stuff. I kept a few garden tools and shovels but they had to fit in my small laundry room.
Kid stuff went bye-bye and so did over half of my wardrobe and knick-knacks because I had virtually no storage and my closets were small. I refused to pay for a storage unit but kept a few things in my mom's basement. It was liberating. And still there was more.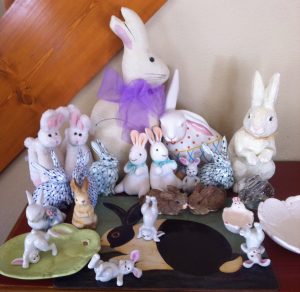 I just got out my Easter decorations. Now that I live in a small space, the holiday decorations are more confined instead of spread out all over a large house. I counted over 20 bunnies that are now on all surfaces in my living, dining and main floor bathroom. Do I need that many bunnies? How did this happen?
Clear Your Clutter With Feng Shui by Karen Kingston makes the top ten of non-fiction, self-help books I have ever read. If you have too much stuff, read it NOW before you are buried alive!
And for God's sake, don't leave your stuff for your kids to deal with after you are gone. If you leave your treasures, which in fact are largely but not completely crap to your kids, then you are leaving a terrible burden to them. Let them live their lives doing what they love not sorting through your stuff. Get rid of it now or at least begin a systematic plan for dispersing it. Sadly, you will not live forever, so start sorting some of your excess clutter today.
Don't even get me started on email and junk snail mail. What a waste of trees for postal mail and your time as you sort through your inbox. Think how much more quality time you could spend with those you love or doing the things you enjoy if you didn't have to manage so much stuff!
As an entertainment break, here is a funny video:
To wrap up my rant about stuff…has stuff gotten the better of you? Does it run your life as you manage it? Are you feeling the weight of it? If you had less of it, what would you do? What could you do? And the final question…do you want a bunny?