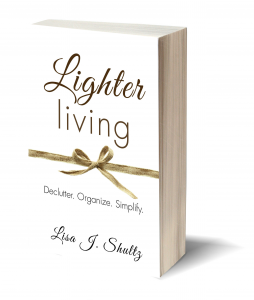 Lighter Living is now available.
Colorado book stores that carry Lighter Living:
Breck Books and Boulder Bookstore.
You may also buy on IndieBound.
Lighter Living is also in paperback or Kindle on Amazon and Barnes & Noble.
You may find professional reviews on BlueInk Reviews as well as Foreword Reviews.
Clearing clutter is much more than cleaning out a closet crammed with things or getting rid of the contents of boxes piled in your basement, attic, or storage unit. Most of us have unfinished business that might make us feel like we walk around dragging a heavy ball with a chain connected to our ankle. When you declutter and possibly downsize, you can free yourself of weighty matters that tie you down physically, mentally, emotionally, and spiritually.
Lighter Living explains why you might want to simplify your home and your life. It shows you how to declutter and then organize what you keep. Finally, you are given a vision for lifelong decluttering and how it can lead to well-being and peace of mind.
Also find it on Goodreads. Add it to your "to read" list and/or leave a review.
Vote for it on these lists: Simple Living and Minimalism and Minimalism.
A received this kind note in my email inbox recently:
I just finished reading your "Lighter Living: Declutter, Organize, Simplify" book on Kindle Unlimited.
You asked us to contact you with feedback.
I'd just like to thank you for such a well-written, well-paced book.
It was just the shot in the arm that I was looking for.
It was thorough and never once preachy.
You very lovingly laid out all the angles/areas involved for us to consider, and gave us gentle encouragement to follow our own path.
It was a perfect blend of advice/covering the topic & personal anecdotes.
Thank you for such an enjoyable read!
— Michele in Indiana
Your reviews are appreciated on any platform! Thanks for spreading the word!