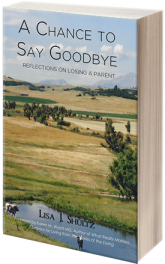 A Chance to Say Goodbye: Reflections on Losing a Parent is available on Amazon, Barnes and Noble and Indie Bound.
Gold Winner in "Aging Family" and Honorable Mention in "Life Journey" Human Relations Indie Book Awards, 2017. Bronze Winner in "Mature Living/Aging" Living Now Book Awards, 2017. Finalist in "Health: Aging/50+" Best Book Awards, 2017. Finalist in "Death and Dying" National Indie Excellence Awards, 2017.
~
Throughout the years, Lisa and her dad had a tenuous relationship. In her youth, she was disappointed and angered by his behavior, distancing herself from him and blaming him for the sudden end to their intact comfortable family life. As a young adult and after her father's sudden heart attack, Lisa was given a second chance to heal their relationship. Over the next three decades they became closer, enjoying time together, including travel. When her dad entered his eighties, and while still raising her own children, Lisa found herself unprepared for his steady health decline. Suddenly, she was thrust into the role of overseeing his care as he began to experience increasing disability and the beginnings of dementia.
Not having prepared for or anticipated such a role, Lisa floundered as she attempted to address his ever-changing situation. The closeness and healing they had achieved was challenged as her father resisted conversations about his failing health and his care, exacerbated by a western medical system that fell short to prepare them for the end of his life.
A moving tribute to a remarkable man and a daughter's experience of losing her dad, A Chance to Say Goodbye gives rise to reflections about what is important in living and dying.
Purchase online Barnes and Noble
Praise for A Chance to Say Goodbye:
STARRED REVIEW ~ Blueink Review (Reviewed: March, 2017)
Lisa Shultz's father died at 89, having outlived his quality of life by five years. A Chance to Say
Goodbye is the impressive result of Shultz's considerable soul-­searching about the experience.
A WWII veteran who lived alone in a remote area of Colorado, Shultz's father had lost his
hearing, mobility, and autonomy. Multiple heart attacks, a stroke, a fractured hip, dementia and
depression forced him off his beloved ranch and into the medical system. That, in turn, forced
his daughter, a former physical therapist, into the role of decision-­maker, grappling with choices
that left her at odds with medical professionals who dealt with death by refusing to address it.
Conversations about her father's wishes were put off until he was incapable of having them. For
Shultz, prioritizing or solving his issues became "a never-­ending hopeless job." Sadly, her dad's
death, from pneumonia and other complications following gall bladder surgery, brought her
neither peace nor closure. Instead, she ruminated about his final days, "dark with unnecessary
confusion and turmoil for him and for those he left behind," and the lessons they held.
Part tribute, part memoir, part guide, A Chance to Say Goodbye succeeds on all counts, with
lyrical writing and thorough research. The book is divided into sections devoted to her father's
life, reflections following his death, and resources for dealing with aging parents or preparing for
one's own death– resources she desperately needed but didn't compile until after the fact.
In recounting her father's story, Shultz enables readers to share in her loss. And she offers a
wealth of practical advice on everything from writing an obituary to clearing out a house. Shultz
also writes passionately about the high cost—human and financial—of what nurses call "the
million-­dollar sendoff," the aggressive, hyper-­medicalized care at life's end that adds neither
quality nor time.
Thought provoking and absorbing, A Chance to Say Goodbye has much to offer readers willing
to confront the challenging subject of end-­of-­life.
***
Readers' Favorite Book Reviews:
Reviewed by Lorraine Cobcroft for Readers' Favorite, June 26, 2017
The death of a parent is, for most of us, one of life's major challenges. In a moving and beautifully written tribute to her late father, Lisa J Shultz's A Chance to Say Goodbye drives home the importance of accepting the inevitability of death, and sensibly and lovingly preparing both for the loss of a loved one, and for our own eventual departure from this world. She reminds us that we need to come to terms with our own mortality. If we will leave children or other loved ones behind, we should, ideally, consider the issues our death will create for them. Discussing "good" and "bad" deaths, Lisa recognizes that our medical and care professionals focus too much on sustaining life, even when there is nothing left worth sustaining. Hopefully, stories like hers, and the wisdom of the professionals she quotes, will help us to soon come to an understanding that extending life beyond the point where it becomes unacceptably tiresome benefits nobody – least of all the society on which this practice imposes such enormous costs for end of life care. We would benefit both the dying and the bereaved by supporting a good and timely death, and by opening frank discussions with the dying that prepare both them and those they will leave behind.
I found myself completely absorbed for the first half of Lisa's story. She effectively connected with me through her reflections on the grieving process and her sound advice on preparing for our own departure. I finished reading A Chance to Say Goodbye with much to contemplate. I closed the book feeling powerfully driven to mimic Lisa J Shultz's resolve to prepare for a death that, rather than heavily burdening my loved ones, will allow them to peacefully accept, joyfully reflect, and quickly restore themselves and move on. An enjoyable and thought-provoking read, A Chance to Say Goodbye is much more than a memoir, and much more than Reflections on Losing a Parent. It's a wise and inspiring guide to living. I highly recommend it for anyone at risk of losing, or leaving, someone they love.
***
Foreword Clarion Reviews:
Reviewed by Michelle Anne Schingler
April 6, 2017
A Chance to Say Goodbye is a heartfelt, moving reminder that loving words are never wasted.
Half a memoir, half an exploration of grief, Lisa Shultz's A Chance to Say Goodbye is a moving exploration of how one can best prepare to lose a loved one.
The book starts off with a family history—an exercise that may be of limited interest to those outside of the Shultz clan, but highlights the author's deep affection for her father and her sense of connection to her family's roots. Historical facts are preserved alongside family details, including information about what was going on in the years that family members were born, what was on the radio, and even who family members share their birth years with. Such qualities give the text a homey charm, and nostalgia for years gone by adds to this sweetness.
The life and death of Shultz's father, Robert, provides the impetus for this exploration of grief. The author recalls how he left rural life and fought in World War II aboard the U.S.S. Missouri. Notes from the period are preserved alongside Robert's words regarding the on-board surrender of Japan, and the retrospective warrants admiration. Shultz's pride for her father's historic achievements shines through, and her reflectiveness when it comes to old family wounds, particularly around her parents' relationship, is sobering.
"He seemed to grow kinder and gentler with age," Shultz says, and as her relationship with her father improves in her adulthood, so too does her awareness of his mortality. Family stories move forward briskly to the most challenging part of their father-daughter relationship so far: preparations for final goodbyes. Ultimately, Shultz found that avoidance came more easily than acceptance, and her chapters are a reminder that a more open kind of departure might be desirable. Blunt details about the daily implications of Robert's declining mobility are graphic but honest.
The book's pace changes when it switches to discussions of grief, affording Shultz the space to gather key moments in her mourning: the absorption of lovely scenery; the wish to reverse key moments of last exchanges. Such meditations are sympathetic, as are declarations like "deep grief is not a weakness; rather it shows that I chose to love deeply." Accounts of handling the minutia in the aftermath of loss, including cleaning out cluttered homes, are honestly rendered and easy to identify with.
The last portion of Shultz's book will prove the most relevant for those making, or helping to make, final preparations. It draws from doctors, scholars, and fellow writers to contextualize death and grief, resulting in thoughtful, helpful recommendations, with the author's own experiences drawn in as examples.
Shultz is a self-critical guide through the process of loss, but she also seems to find some peace in the idea that her insights might help others to make healthier choices. Communication stands out as an essential tool, and Shultz's preparatory notes are full of sage advice. Prose is clear and direct, and the end result is both reflective and encouraging.
A Chance to Say Goodbye is a heartfelt, moving reminder that loving words are never wasted. In its personal nature, it makes convincing arguments against risking regret.
***
In June 2017, Family Caregiver Support featured a blog I wrote describing the reasons I wrote the book.
Also in June 2017, A Chance to Say Goodbye was featured on Book of the Week on No Shelf Required.
In June 2018, HomeWatch Caregivers featured a Q & A about caregiving.
***
More Praise for A Chance to Say Goodbye …
"The goal of this book is one that really matters: it can change our entire society for the better and allow everyone "a chance to say goodbye" with those we love." ~Karen M. Wyatt MD, Author of What Really Matters: 7 Lessons for Living from the Stories of the Dying
This personal narrative of a universal experience is both touching and useful. Lisa gently guides the way through navigating the death of a parent, an experience many will face but few will be prepared for. Her honesty on a difficult topic is refreshing. After reading this book, I feel more confident in facing what lies ahead. ~ Gwen Van Velsor, Author of Follow That Arrow
A Chance to Say Goodbye is a book anyone who has aging parents needs to read. The experience of parenting a parent through medical, financial, and even the issues of daily living can be so frustrating and isolating. Read Lisa's book and you'll know you're not alone. You'll gain key understanding for the time when you are about to enter this phase with a parent. Insightful and beautifully written! ~ Gayla Wick, Author of The Art of Attracting Authentic Love
Lisa shares a touching life experience in A Chance to Say Goodbye: Reflections on Losing a Parent. Part memoir, part historical documentary, part tutorial on aging and dying, this wonderful work does not leave anything out in preparing for the journey of losing a loved one. Her thorough research gives the reader many resources to consider and her well-chosen quotes comfort, inspire, and challenge one's spirit for the time they begin this difficult journey. Death is a natural part of Life's progression, and Lisa helps the reader navigate this season with much tenderness and honesty. ~ Connie Pshigoda, Author of The Wise Woman's Almanac: A Seasonal Guide with Recipes for New Beginnings that Never Go Out of Season
This book is deeply personal and insightful. You're sure to gain valuable knowledge as well as important tools and resources from Lisa's exceptional book. She offers honest emotions from her experience. I also enjoyed getting to "know" her father as a vibrant and healthy man, prior to his failing health. A must read! ~ Kate Heartsong, Author of Deeply We Are One

A Chance to Say Goodbye is a labor of love and a must read. The author tells a heartwarming and heart wrenching account of her relationship with her father. In today's society, we avoid thinking of the later years in our relative's lives. This book should remind all adult children with aging parents that they must prepare for their loved ones' future as well as their own. Thank you, Lisa! ~ Karen Owen-Lee, Author of The Caring Code and The Caring Crisis, CEO and founder of Housing Options for Seniors, Inc.
If you are in the sandwich generation, you need this book. Lisa Shultz's honest, compassionate, and compelling exploration of her own reactions in assisting her dad to complete his life make the process of caring for and losing an aging parent unflinchingly real. The resources she discovered and shares will help you prepare to meet the inevitable challenges that arise when you assume similar responsibilities. ~ Dr. Laurie Weiss, Author of Letting It Go: Relieve Anxiety and Toxic Stress in Just a Few Minutes Using Only Words

This is an outstanding book about Life, Death, and Caretaking. Beginning with a biography of her father, A Chance to Say Goodbye is not just a memoir, but rather sets the scene for her experiences and frustrations as her father's caregiver at the end of his life. She gently explains her experience as daughter and supervisor of his final years. Finally, Lisa masterfully moves into 'how to mode' and gives a detailed blueprint of the steps each of us might follow to prevent the difficulties she experienced. A worthwhile book about a very difficult subject, it is beautifully written, interesting, and personal, moving the reader effortlessly though the frustrations of caretaking, dying, and death. After reading it, you will be grateful to Lisa Shultz for her insights on this sensitive subject. ~ Rhondda Hartman, Award Winning Author of Natural Childbirth Exercises for the Best Birth Ever and Natural Childbirth Exercise Essentials
Full of resources and insights, A Chance to Say Goodbye is a helpful read for anyone navigating the journey with an aging loved one. The section on the caregiver's own grieving process is just as helpful as how to talk to your loved one about their impending death. ~ Jan Haas, Author of Moving Mountains: One Woman's Fight to Live Again

With captivating transparency, Lisa Shultz shares fun memories, uncertainties, fears, emotions, and challenges of becoming the caregiver, watching her father slowly weaken. The insights and lessons learned will prove valuable to those being cared for as well as those involved with end-of-life matters on behalf of a loved one. The resources and questions Lisa includes will be helpful to anyone facing such decisions. ~ Ted Dreier, Author of Take Your Life Off Hold
Read additional reviews on Goodreads and Amazon
Your reviews are much appreciated!
More praise:
"Lisa's book is written with heartfelt openness, wisdom and thoughtfulness. She shares with us her life-long journey with her father and addresses her changing role and numerous challenges, truly bringing me a sense of peace regarding having been caretaker for my own father until his death several years ago. Lisa also gives important guidance for all of us in taking care of practical matters while we can." ~ Liz Sower
~
"Award winning Author, Lisa J. Shultz, writes a book for the times. She tackles subject matter that Baby Boomers, will clearly identify. The subject of this book takes a look at the complicated relationship between father, and daughter. This because of a shared history, family relationships, and the thoughtfulness involved, when a daughter becomes, care giver in-chief.
The story weaves family history, with the issues the care giving child must face, to take care of a parent. What happens when the parent becomes, the child, and the child, becomes the parent? Well Lisa, with her beautiful writing, artistry, answers the question, with detail, a heartfelt story line, and the practical knowledge needed, when you have to say Goodbye.
It is difficult to say Goodbye to a parent, and in some ways, you never get over it, so this book is part self exploration, and part a guide book to others. When the parent is gone, you are consumed by memory, by dreams, and by the practical aspects of cleaning out the house. Do you move on? Probably not. So if you are in a situation where you can identify with the subject matter, of family history, to care giving to saying Goodbye, I highly recommend this book—"A Chance To Say Goodbye, by Lisa J. Shultz."
Review written by Rick Bava–Author of–"In Search of the Baby Boomer Generation." Rick Bava is associated with Today's Senior Magazine, Newsmax, and the Booomer Nation Radio Show, and Media outlet.
~
Purchase now on Barnes and Noble
Please share your reviews on Amazon, Barnes and Noble, Goodreads or any other review platform!