Lighter Living is more than a book. Lighter Living Tasks are weekly suggestions to make progress on decluttering, organizing and simplifying your life. By working on parts of your home each week, you will breaking big projects into small, manageable tasks.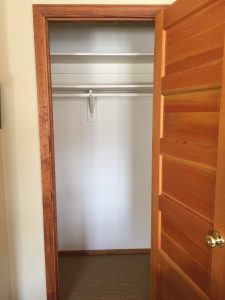 Closets are often filled with clutter. Perhaps they are stuffed to the brim of things we no longer use but have not taken the time to sort. This week, pick a closet, any closet. Grab some trash bags or empty boxes and set some time aside to tackle this project. First, empty it. Take every item out and then clean the closet by vacuuming or dusting.
Before putting anything back in, ask yourself if you love it or use it. For clothes, make sure it still fits, looks good on you and that you have worn it recently or in the last year or season.
Place items in bags destined to donate, consign or to sell. Thin out duplicates such as too many towels in a linen closet. You can also have a ponder pile or bag to look at later.
The important part is that what goes back in the closet is something that you really value, use and love. Let me know by commenting below what closet you chose. I love before and after pictures too. For extra credit, do more than one closet this week.
Between tasks posted on this blog, be sure to read Lighter Living if you have not already.